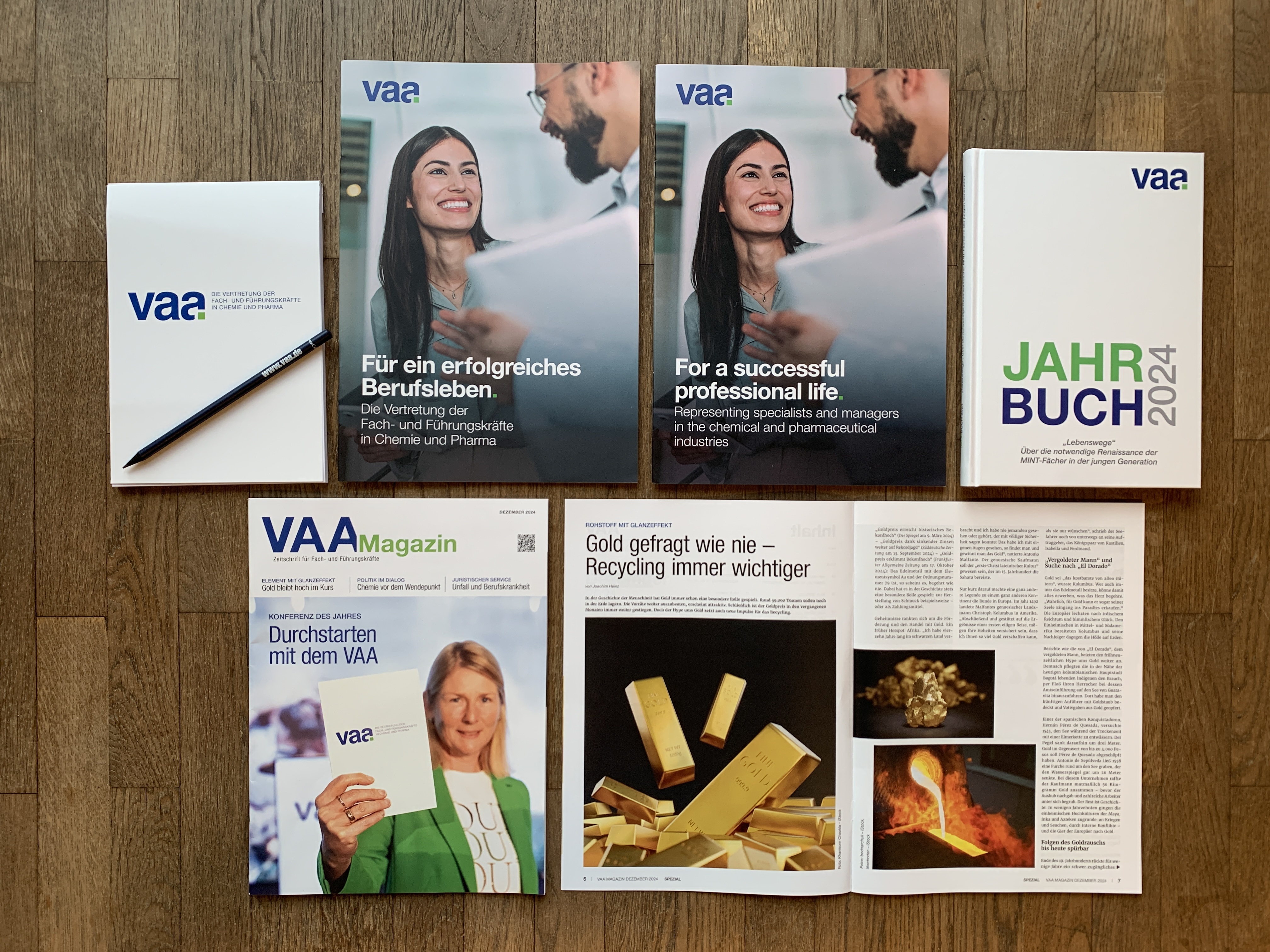 The VAA publications make sure members are always kept up to date, with plenty of information straight from the source.
The VAA Magazine is published six times a year. Packed with articles and reports from the industry, the world of science, politics and labour law, all the content is expertly researched to a high journalistic standard. The VAA magazine also features reports on the latest happenings from life inside the association. The VAA Magazine is free for members and partners of the association.
The VAA Newsletter gets straight to the point: every month, subscribers receive an email informing them about all the latest developments in the world of business, finance, law and politics. And of course, service-related subjects and handy hints on events for members are also included. The newsletter is free of charge, and anyone who's interested can subscribe.
Anyone looking for a condensed overview of the association's work will find just that in the yearbook. Each year in this series of publications, the VAA sheds light on a socially relevant issue based on well-researched articles, analyses and guest contributions from journalists and experts in business and the sciences.
The informative VAA pamphlets explain labour law and social law in simple terms that even laymen can understand. In this way, the association gives its members an elucidating insight into legal matters.
Well-founded specialist articles from the VAA lawyers address the specific problems faced by employees in executive positions, executive staff committees and the representatives of employees not covered by standard collective agreements in works councils. In this way, the association plays an active role in influencing professional discourse.
Regular surveys provide valuable empirical material for the association and the media. After all, executives and employees not covered by standard collective agreements are an extremely interesting target group for the world of politics and business.
The annual income survey gives VAA members an insight into the salary levels within the industry. Each year, the association conducts a satisfaction survey and uses the results to show companies the specific areas with room for improvement in terms of working conditions. A winner is chosen from over 30 participating companies each year and awarded the German Chemistry Prize Cologne for exemplary human resources work. The association also conducts a survey on equal opportunities every five years to assess the job situation for female and male managerial staff in the industry. The retiree survey is carried out every four years, and its findings shed light on the income situation for retirees.